Berdella Sogn, age 98, of Barnesville died on Friday, August 5, 2022, at the Woodland Lodge Assisted Living in Fergus Falls, MN.
Berdella Lorraine Malingen was born on December 11, 1923, to Melvin and Ella (Olson) Malingen in Lawndale, MN on the family farm. Her dad took a sleigh to meet the doctor from Rothsay to assist. She grew up on the family farm and attended country school. She graduated from Barnesville High School in 1942. She worked as a nurse's aide in Fergus Falls and attended Lutheran Deaconess Hospital Nurses Training in Minneapolis and graduated as a registered nurse in 1949. She then worked as a nurse in Fergus Falls.
On September 7, 1951, Berdella was united in marriage to Kenneth Sogn in Little Bethany Lutheran Church. The couple made their home on the Sogn home place in Tansem Township where they farmed and also owned and operated Sogn Sand and Gravel. She raised three children and worked alongside the family caring for the farm and business. Berdella was a member of Little Bethany Lutheran Church and served in many capacities through out the church.  She gave to her community by volunteering her time.
Berdella is survived by one daughter, Belinda Myhre of Fergus Falls, MN; two sons: David (Roberta) Sogn of Pelican Rapids, MN and Kurt (Kathy) Sogn of Barnesville, MN; 11 grandchildren: Ole Myhre Jr, Kjersti (Donald) Cronin, Randi (Dave) Myhre Jarski, Melissa (Kelly) Erdmann, Trisha (Brad) Rutten, Matt (Christine) Sogn, Alyssa (Chris) Shellito, Bradley (Megan) Sogn, Paul (Abby) Kowalski, Mark Kowalski and Anna Kowalski; 12 great grandchildren; one brother, Marlen (Donene) Malingen of Fergus Falls; sister-in-law, Ramona Malingen of Fergus Falls; and several nieces, nephews, other relatives, and friends.
She was preceded in death by her husband Kenneth in 1997; her parents; brother, Alan Malingen; son-in-law, Ole Myhre; and daughter-in-law, Cindy Sogn.
Funeral services will be 11:00 AM, Saturday, August 13, 2022, at Dobmeier Funeral Home in Barnesville, MN with Rev. Caleb Larson, officiating. Interment will follow at Little Bethany Cemetery, rural Barnesville, MN.
Visitation will be on Friday from 5-7 PM at Dobmeier Funeral Home with a Prayer Service at 7:00 PM. Visitation will continue for one hour prior to the service on Saturday.
In lieu of flowers, memorials will be designated per Berdella's wishes.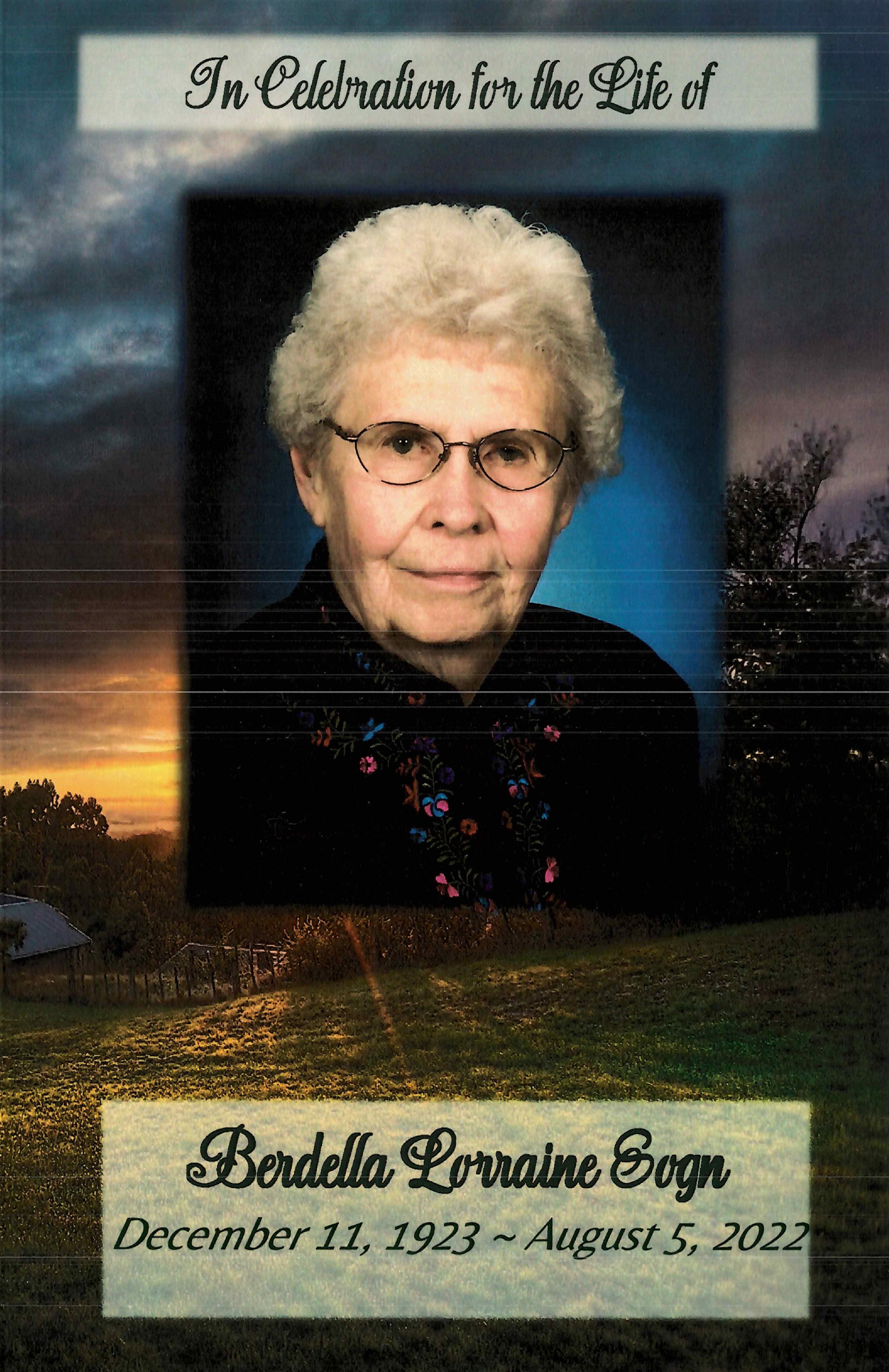 Berdella Sogn's Memorial Folder