Charles Hiram Bekkerus, the third of four children, was born on May 25, 1947, to Rudolph Aaron and Ida Albertina (Dallmann) Bekkerus at the family farm in Wilkin County, Minnesota. Charles was baptized at Little Bethany Lutheran Church, rural Barnesville and confirmed at Our Savior's in Rothsay, MN. He attended first grade at District 19, a country school in Prairie View Township, one mile north and one mile east of the home farm (uphill both ways). He grew up working on the farm with his father, until Rudy retired in 1974. He graduated from Barnesville High School in 1965. He married Sandra Erickson in September of 1966, and to this union four children were born. In May of 1966, he entered the United States Air Force and was stationed in Little Rock, AR for three years. Charlie was also stationed in Puerto Rico and recruited 118 Puerto Ricans into the military. In May of 1970, Charlie returned to Barnesville and farmed with his dad for five years. Starting part time in September of 1971, he began working for the United States Postal Service in Moorhead and was there for 12 years. He became the Postmaster in the Barnesville Post Office in 1983, retiring from there in 2002. Charles was divorced in 1991. In 1997, Charles met Carol Schwartz and they have been together ever since.
After retiring Charlie and Carol traveled with their camper. Their first trip was to Alaska, staying for two months. They then wintered in Florida. The next year they went to California and on to Cabo San Lucas in Mexico. They then traveled to Texas, where they rented camping spots for a couple of winters and finally bought a home in Mission, Texas. Beside traveling, Charlie liked to fish, ride his bicycle and motorcycle, and play endless games of cards including Pinochle, Hearts, and Cribbage. He was involved with the Jaycees, the Lions, was a 4-H member as a child, then became a 4-H leader as an adult and is a past PTA president. He is a member of Our Savior's Lutheran Church in Barnesville.
In addition to Carol Schwartz and her children Lee Schwartz of Fargo, ND, and Tari (Steve) Wieers of Fargo, he leaves his four children: Perry Bekkerus of Fargo, ND; Patty (Jim) Carriere of Fargo, ND; Steven (Jessica) Bekkerus of Cumming, GA; and Kyle Bekkerus of San Antonio, TX; five grandchildren: Peter, Paula and Parker Bekkerus of Denison, IA, and Mac and Ella Bekkerus of Cumming, GA; and bonus grandchildren: Joe, Joshua, Jeremiah, Isaiah, Austin and Mason Carriere, Hunter and Bella Schwartz, Connor (Sadie) Wieers and Katie Wieers. He also leaves three sisters: Helen Ann (Clyde Everhart) Erickson of Littleton, CO; Bonnie (Lyle) Osten of Callaway, MN; and Betty Bekkerus of Edina, MN; two nieces: Ilene Osten and Shelly (Matt) Dillon; and one nephew, Andrew (Deb) Osten.
He was preceded in death by his parents, Rudolph and Ida Bekkerus; and brother-in-law, C. James Erickson.
Charlie Bekkerus, age 75, of Fargo, ND, died at Essentia Hospital on Sunday, July 31, 2022 from injuries sustained in a motorcycle crash near Horace, ND.
Funeral Services will be 11:00 AM, Monday, August 8, 2022 at Our Savior's Lutheran Church, Barnesville, MN, with Reverend Chris Leach officiating. Burial with military honors provided by the Barnesville Honor Guard will be at Little Bethany Cemetery, rural Barnesville.
Visitation will be Sunday, August 7, 2022 from 5-8 PM, with a Prayer Service at 7:00 PM at Dobmeier Funeral Home in Barnesville. Visitation will continue for one hour prior to the funeral service on Monday.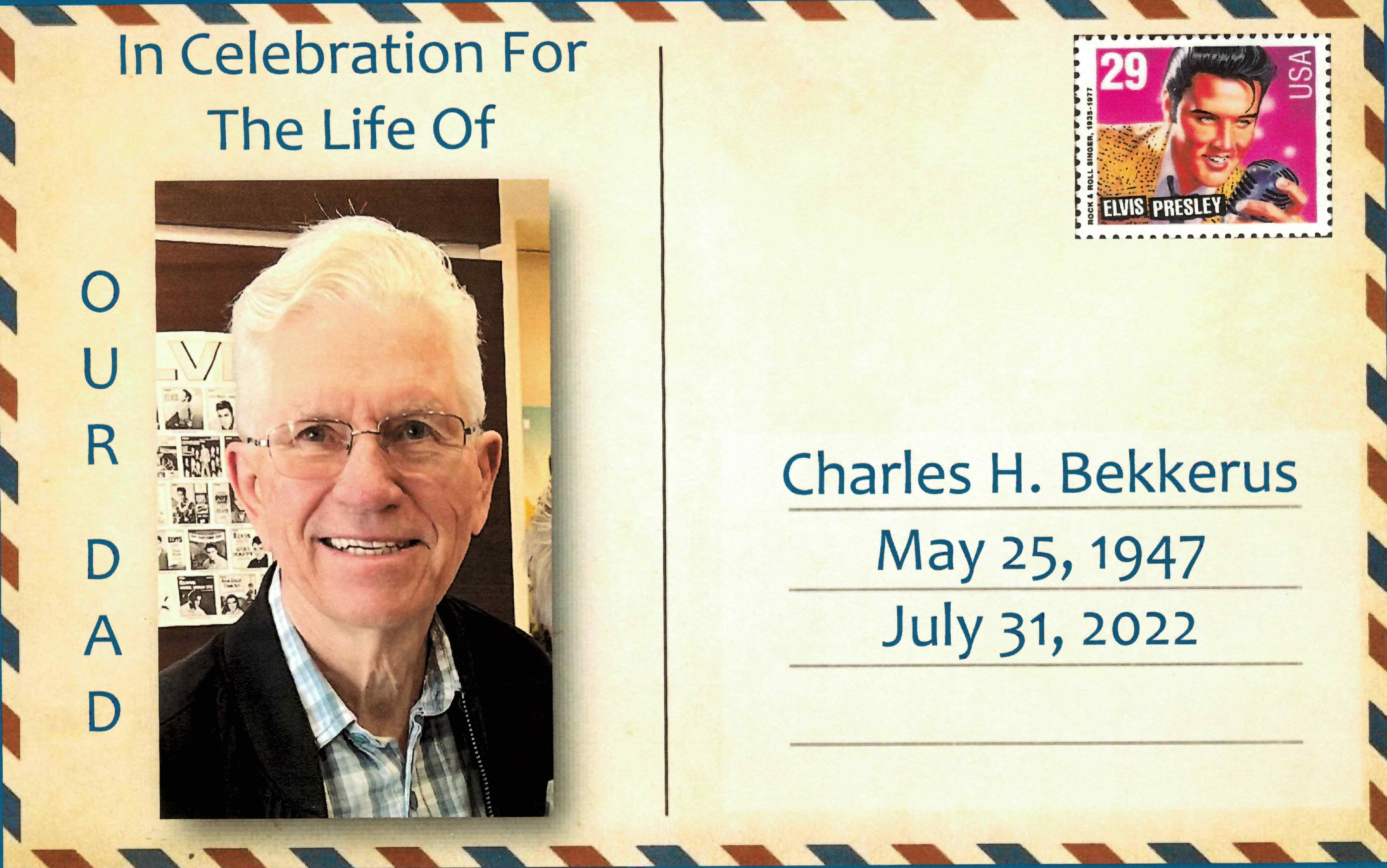 Charles Bekkerus's Memorial Folder