Debra Stetz, age 49, died on Tuesday, June 28, 2022, at Sanford Hospital in Fargo following complications from a knee surgery.
Debra Helen Stetz was born on August 22, 1972, to Edward and Margaret (Nicklay) Stetz in Moorhead, MN, number seven of eight children. She grew up on the family farm in Wilkin County, rural Barnesville. She attended school in Barnesville and graduated from Barnesville High School in 1990.
Debra was a wonderful cook and spent many years as a cook at the Wagon Wheel and later at the Eagle Cafe; in Barnesville. She also worked at Barnesville Grocery for two and a half years. Most recently, she has worked at Dollar General in Barnesville, sometimes being the only employee who worked there, trying to keep the store open for its customers.
Debra greeted and had time to talk to everyone she saw. She will be missed for her quick smart-ass comments and her dirty jokes. Debra's sons are her pride and joy and she has been a proud mama of their accomplishments. Debra had a generous heart who would lend a hand or ride to anyone in need. Debra enjoyed evening outs with friends and playing pull tabs or e-tabs. She loved being the fun Aunt. The farm was where her home was and she loved ranger rides and cooking and baking for her family.
Debra is survived by two sons: Jacob (Molly Dickelman) Stetz and Zachary (Kiahnah Bahr) Stetz, all of Barnesville, MN; boyfriend, Phillip Swenson and his sons, Cole and Carter Swenson of Barnesville; seven siblings: John Stetz of Fargo, Susan Stetz of Barnesville, Maurice Stetz of Barnesville, Sheila (Chad) Krueger of Fargo, Michael (Sara) Stetz, of Barnesville, Marvin (Lorretta) Stetz, of Powers Lake, ND, and Karla (Bill) Thompson of Barnesville; nine nieces and nephews; two great nieces and one great nephew; mother-in-law, Bonnie Swenson, and her grand puppy Maggie.
She was preceded in death by her parents, Edward (2020) and Margaret Stetz (1994); and father-in-law Lefty Swenson.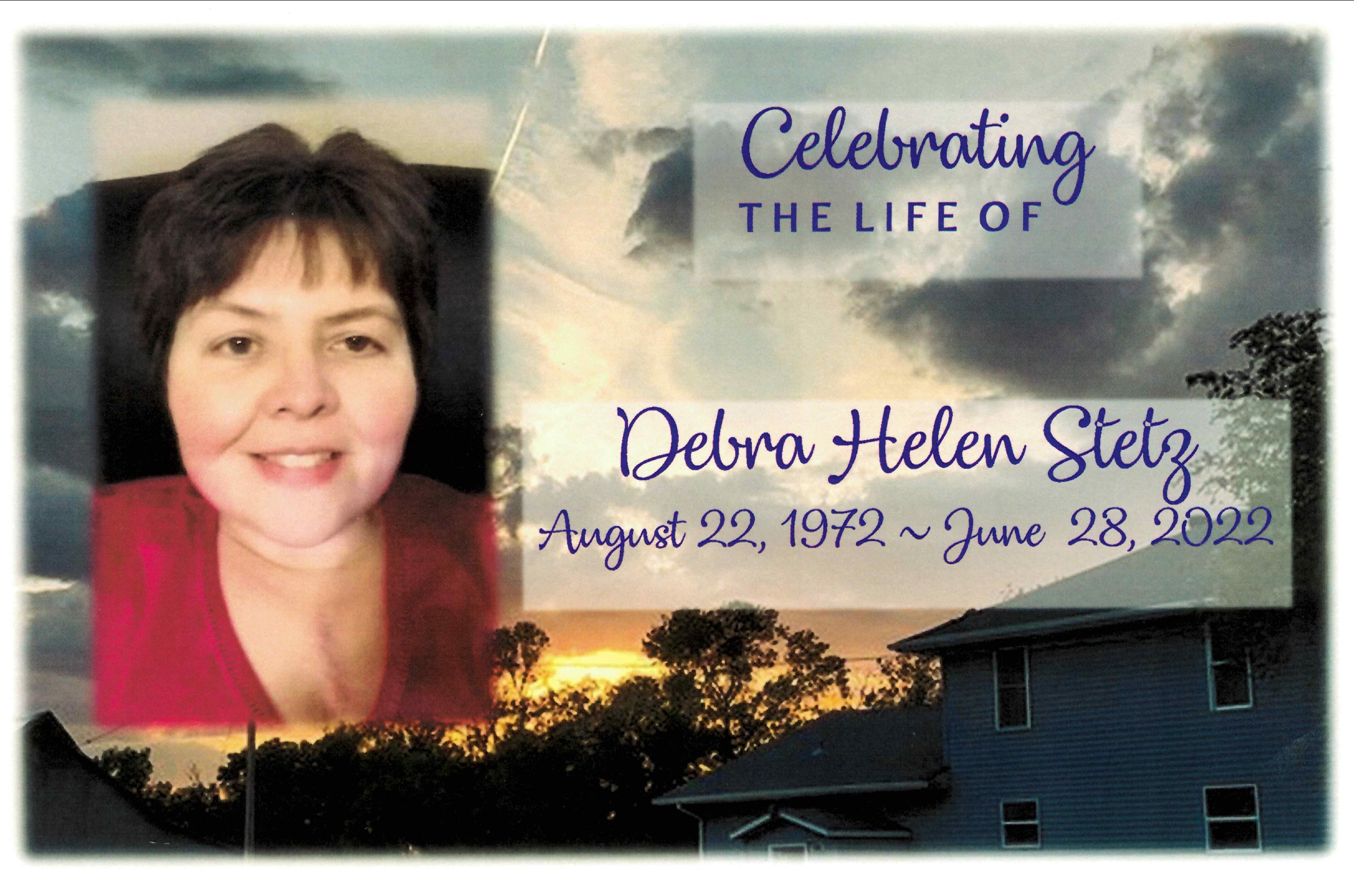 Debra Stetz's Memorial Folder