Diane Lynn Law, age 70, of Sabin, MN died at Sanford Hospital in Fargo, ND on Monday, April 25, 2022 surrounded by family. She will be remembered as a devoted wife, mother, friend, and grandmother.
Diane Lynn was born in Moorhead, MN on January 19, 1952, to Harley James and Cleopha Rose (Bell) Kastet. She grew up in Sabin, MN. Following elementary school in Sabin, she attended Moorhead High School. After high school, she worked at the USDA in Fargo for over 20 years.
On August 15, 1975, Diane was united in marriage to Michael Law at Grace Lutheran Church in Fargo, ND. They started out their married life in Fargo for three years before moving to Sabin in 1978. It was in Sabin that Diane and Michael raised their daughter, Tracy, filled their home with many cherished pets and animals, and continued to reside ever since. Through her marriage to Michael, Diane gained many family members and was a beloved sister-in-law and aunt. Michael and Diane loved the outdoors; through the years they enjoyed riding motorcycles, hunting, fishing, gardening, and trips to Canada and Alaska.
Diane had her first fight with cancer in 1993. Despite many health challenges since then, Diane had an unparalleled resiliency and fight for life. She continued to defy odds and overcome these challenges. Though she experienced significant pain from various ailments, Diane was determined to live her life as fully as she could. She refused to let illness win, attending holidays and special events with her family, no matter what. Her family was blessed by this determination, especially as they were able to spend one last Easter holiday together in the spring of 2022.
As a proud grandmother, Diane was very close to her granddaughters. She was actively involved in their lives, from babysitting them as little girls, to attending countless concerts, musicals, and other events as they grew up. Diane loved her family whole-heartedly and she was incredibly proud to see her family grow. She welcomed a "bonus" granddaughter and "bonus" great-grandchild, Sarah and Man, and excitedly cheered on Becca and Mari as they started the next chapters of their lives in college, marriage, and careers.
Known for her love of animals, Diane had compassion to care for creatures big and small. She took in stray dogs and cats in need of a home and cared for many kittens and puppies throughout her life. She even raised four baby squirrels that she had found in the backyard, bottle-feeding them and letting her granddaughters help her care for them. She passed this love of animals on to the next generations and doted on all of the family's pets as well. Diane loved to garden flowers and vegetables, canning and freezing from the bounty of her garden. She frequently visited friends and family with a box of vegetables in hand, eager to share with others.
Diane is survived by her husband, Michael Law of Sabin; one daughter, Tracy (Mark) Aaker of Fargo, ND; two granddaughters, Becca (Nels Eide) Aaker of Fertile, MN, and Mari Aaker of Fargo, ND, as well as numerous brothers-and-sisters-in-law, nieces, and nephews.
Diane was preceded in death by her parents, Harley and Cleopha Kastet, and one brother Richard Kastet.
Memorial Services will be 2:00 PM, Monday, May 9, 2022 at Dobmeier Funeral Home in Barnesville with Rev. Jim Greene officiating.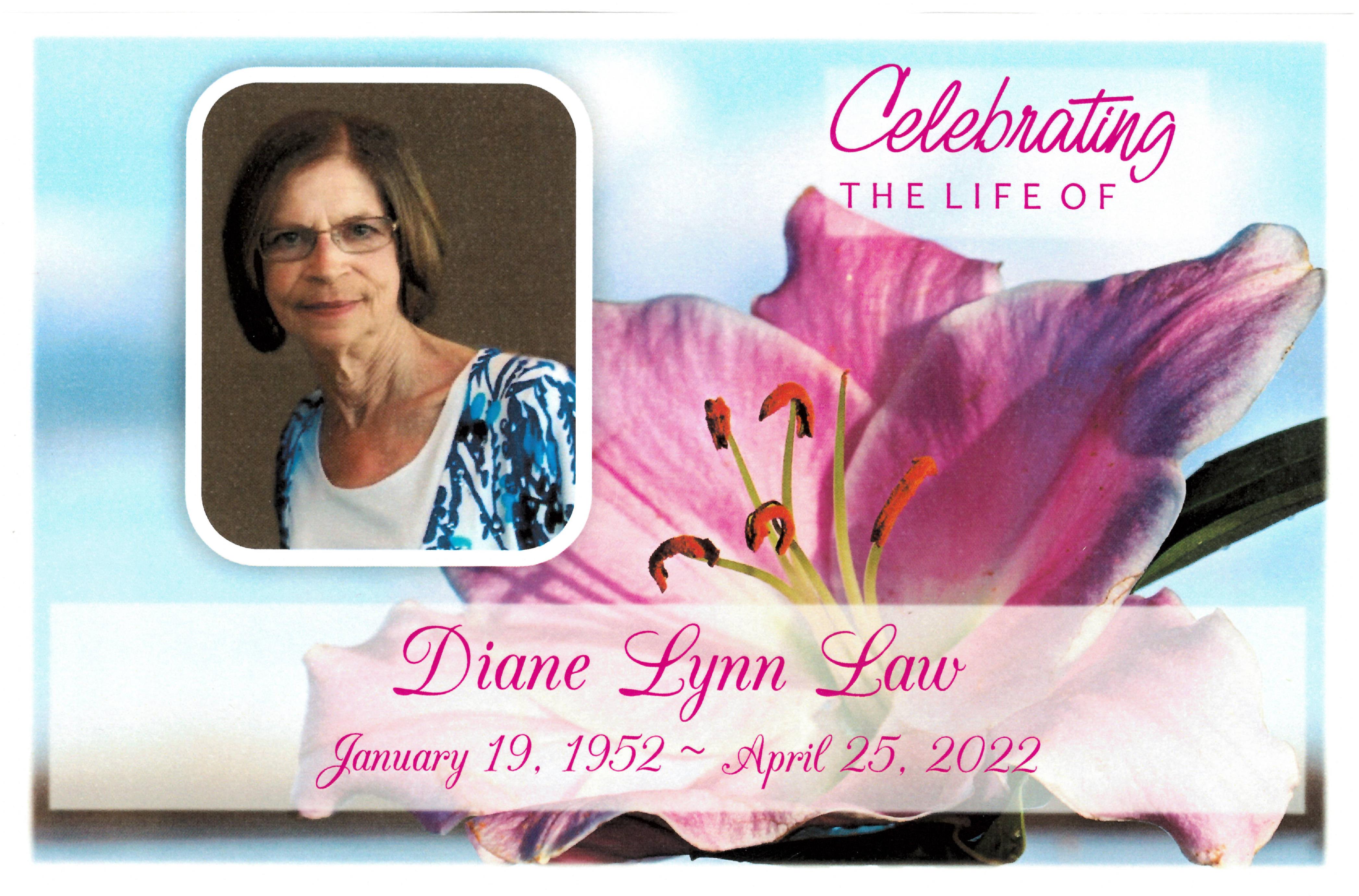 Diane Law's Memorial Folder