Edwin Haick, age 93, of Barnesville, MN, died on Tuesday, April 19, 2022 at the Fargo VA Hospital.
Mass of Christian Burial will be 11:00 AM, Monday, April 25, 2022 at Assumption Catholic Church in Barnesville, MN with Father Todd Arends presiding. Burial will follow in St. Mary's Catholic Cemetery, Barnesville, MN with military honors provided by the Barnesville Honor Squad from the VFW and American Legion Posts.
Visitation will be 5-8 PM, Sunday at Dobmeier Funeral Home in Barnesville with a prayer service at 7:00 PM. Visitation will also be held for one hour prior to the Mass.
Edwin Julius Haick was born on October 7, 1928, to Henry and Mary (Ulrich) Haick in Wilkin County, MN on the family farm. He grew up on the family farm and attended school in Barnesville. His dad died when Ed was a young boy and he took over the duties of the farm. He then entered the US Army and served his country during the Korean War. On October 6, 1954, Ed was married to Lavinia "Linda" A. Daniels at Assumption Catholic Church in Barnesville. The couple made their home in Barnesville where they raised their six children. He worked road construction for a few years in Northern Minnesota. In 1967, Ed went back to farming in Wilkin County and continued farming until retiring at 82 years of age.
Ed's children, grandchildren, and great grandchildren were very special and important in his life. He also treasured his time with his friends. He loved family get togethers, especially the holidays. He enjoyed ice fishing and summer fishing trips to Canada. He also liked playing cards, dancing, and a bump of whiskey. He was a member of the Assumption Catholic Church, the Knights of Columbus, VFW, and American Legion. Ed was a recipient of the Honor Flight to Washington DC in 2016.
Edwin is survived by his six children: Jim (Ruth LeNoue) Haick of Rothsay, MN, Daniel Haick of Moorhead, MN, Kathy (Dan) Fischer of Wabasso, MN, Chris Sturm of Fargo, ND, Mary (Darwin) Cihak of Glyndon, MN, and Barb Haick of Moorhead, 12 grandchildren: Nathan (Desi) Erickson, Amanda (Tanner Nelson) Haick, Jenny (Justin) Kalvoda, Becky (Josh) Helmer, Debbie (Mike) Szafranski, Melissa (John Taylor) Sturm, Mariah (Andrew Christensen) Sturm, Meghan (Brandon Arion) Sturm, McKenzie (Sydney Gilbert) Sturm, Madison (Wesley Scott) Sturm, Melinda (Logan) Schonert, Jason (Joleen) Cihak, 26 great grandchildren, special friend Anita Bjornstad of Rothsay, MN, and many nieces, nephews, other relatives, and friends.
Ed was preceded in death by his wife Linda in 1994, his parents, great granddaughter Penelope Skye Gilbert, and nine siblings, Bernadine Powelson, Bernard Haick, Catherine Hahn, Tony Haick, Francis Marlett, Gilbert Haick, Clara Hahn, Anna Savala, and Marie Sauvageau. Special friends Nancy Beckstrom and Georgia Thompson.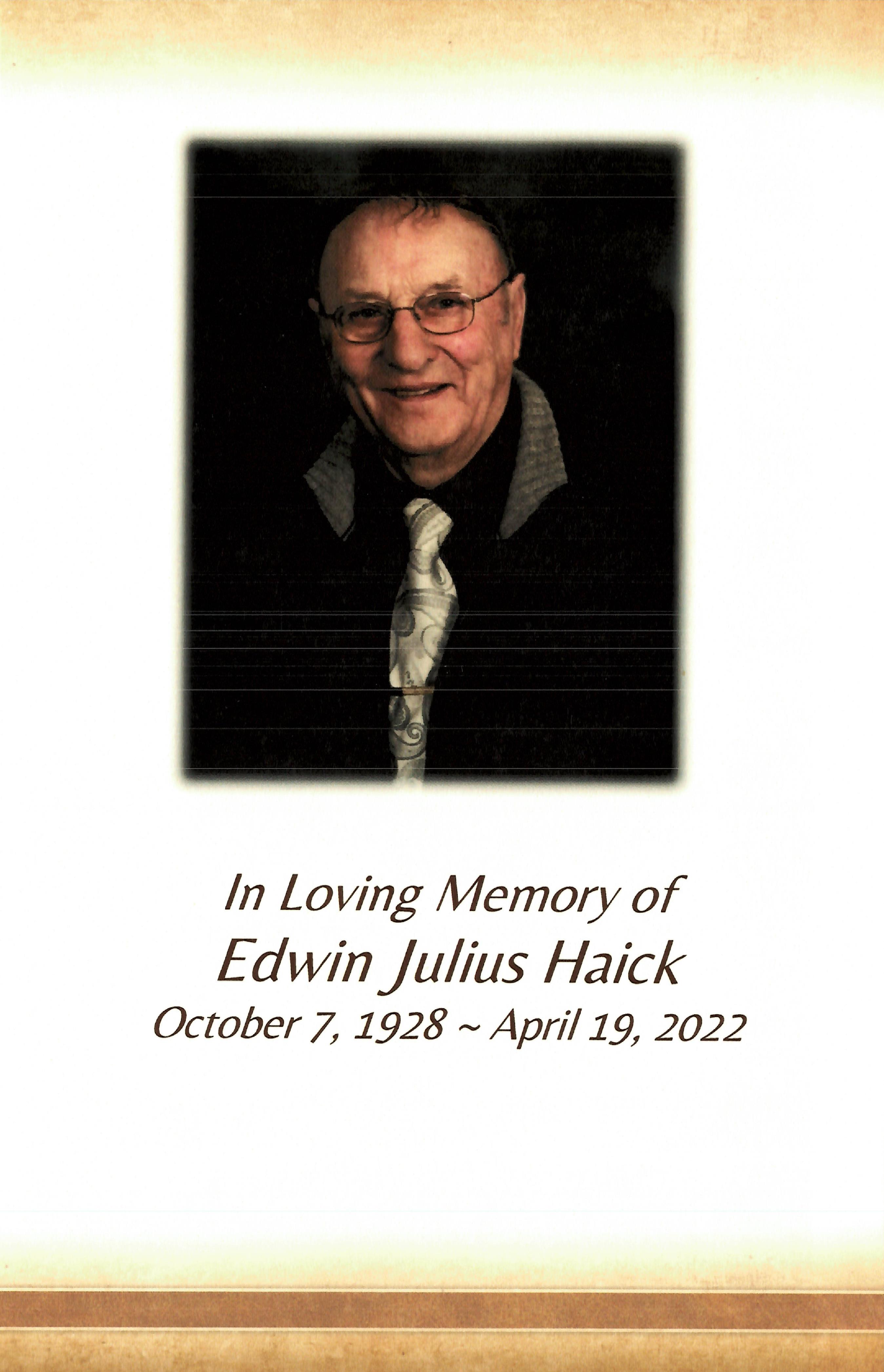 Edwin Haick's Memorial Folder