James "Jim" Holmstrom, age 69, of Barnesville, MN died surrounded by family on Monday, September 5, 2022 at Sanford Hospice House in Fargo, ND. His family would like to thank the Sanford Hospice staff for the excellent care they provided to Jim as well as the support extended to the family.
James Arthur Holmstrom was born on April 16, 1953 to Laurence "Bud" and Eunice (Taylor) Holmstrom in Lisbon, ND. He grew up and attended school in Gwinner, ND and graduated from North Sargent High School in 1971. He spent his summers at Lake Lida - building the family's cabin, fishing, and water-skiing. He graduated from UND in Grand Forks in 1975 where he met his future wife Shelley and became a life-long die-hard Sioux fan.
On April 6, 1974, Jim married Shelley Lien during an epic snowstorm in Sarles, ND. They started out their young lives together in Grand Forks and soon after began farming in Sarles. He enjoyed working the land, utilizing new technologies, wrenching on equipment, and harvesting grain. They started their family in 1977 and three years later found themselves with three blond-haired daughters.
In 1990, they moved to Barnesville where they continued to raise their girls. For a short time, he worked as an over-the-road trucker and was proud to proclaim that he saw each state in the continental United States. Jim worked at Farmers Oil in Barnesville for several years until he became a machinist at Gremada Industries/Caterpillar. He retired in 2018.
Jim was an avid learner and hobbyist throughout his life. He loved music; he played the guitar and harmonica, and enjoyed listening to some of the greats including AC/DC, Pink Floyd, and Metallica. He studied various subjects after graduating, obtaining his pilot's license and joining Mensa. He was a professional photographer and developed film in his self-built darkroom. He enjoyed hunting and fishing, landing on the sport of archery for an extended time. He attended a weekly league, was a Director for the ND Bowhunters' Association, taught hunters' safety, and traveled to many different shoots with his family. Jim enjoyed snow-skiing both at local resorts and trekking out to the mountains. He considered himself an "Iron Chef", employing various techniques, new recipes, and novel gadgets. In later years, biker life called to him. He took part in many local rides and charity benefits. He and Shelley took many long-distance journeys. You could often find him in the garage installing whatever new accessory he found for his Hondas.
He was proud of his daughters and sons-in-law and enjoyed including them in all of his hobbies. He cherished his grandchildren and their time together, teaching them important things about the Starship Enterprise, cinnamon candy, Sioux hockey, and the art of revving your motorcycle engine.
Jim is survived by his wife, Shelley, three daughters: Rebecca (Cory) Hanson, Elizabeth (Paul Jr) Johnson, Martha (Chuck) Meranda, nine grandchildren: Thomas and Bailey Johnson, Timothy and Tyler Swang, William, CJ, and Spencer Meranda, Kiley and Blake Meranda, two sisters: Heidi (Virgil) Martenson, Mary Sukut, two sisters-in-law: Debbie Lien and Kathie (Roger) Voth, and his nieces and nephews.
He was preceded in death by his parents and mother and father-in-law.
Visitation will be 5-8 PM Thursday, September 15, 2022, at Dobmeier Funeral Home in Barnesville with a Prayer Service at 7:00 PM.
Memorial services will be 11 AM, Friday, September 16, 2022, at Our Saviors Lutheran Church in Barnesville with Rev. Chris Leach officiating. Burial of cremains will be in City Cemetery, Barnesville following the service.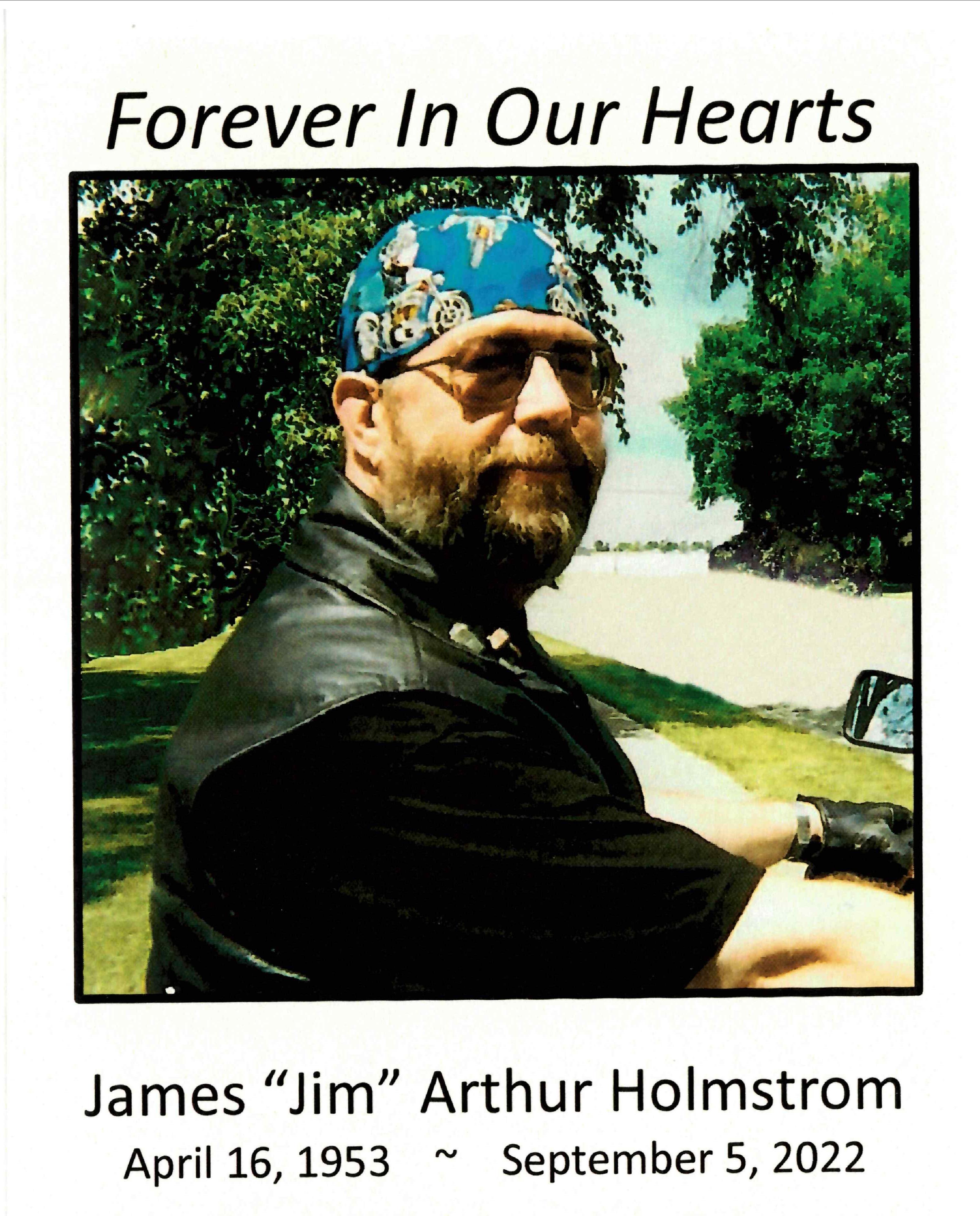 James Holmstrom's Memorial Folder