Marlys Schindler, age 93, of Barnesville, MN passed away peacefully with her family by her side at ValleyCare and Rehab in Barnesville, MN.
Memorial Mass will be 11:00 AM, Tuesday, June 21, 2022, at Assumption Catholic Church in Barnesville, MN with Father Todd Arends presiding. Burial of cremains will be in St. Mary's Catholic Cemetery, Barnesville, MN.
Visitation will be one hour prior to the service.
Marlys Lynette Thrane was born on June 14, 1929, to Oscar and Ruby (Spillum) Thrane in Barnesville, MN. She grew up in Barnesville and attended school through the 9th grade.
On December 6, 1947, Marlys was united in marriage to Raymond Schindler. For 52 years, they lived on the Schindler farm west of Barnesville, where Marlys raised her family and helped on the farm. She worked at Thompson Greenery seasonally for 30 years. They moved into Barnesville in 2000 and she has been a resident at ValleyCare and Rehab since 2016.
Marlys loved spending time and being around her grandchildren and great grandchildren. She was an active member of Assumption Catholic Church and the St. Ann Guild. She belonged and was active in the American Legion Auxiliary in Barnesville. Marlys enjoyed gardening, canning, and cooking.
She is survived by three children: Carol Halpern, Woodbury, MN; Wayne (Sue) Schindler, Barnesville; Janice Schindler, Woodbury, MN; 8 grandchildren: John (Michelle) Bovy; Jennifer Halpern; John (Emma) Halpern; Patrick (Michelle) Schindler; Sarah (Cody) Barnes; Elizabeth Schindler; Aaron (Elizabeth) Schindler; Curtis Schindler; 10 great grandchildren: Calvin, Lauren, and Annie Bovy; Ellie Halpern, Nora and Jack Schindler; Grace Schindler and Addyson Barnes, Clara and Ruby Schindler; one sister, Joan Thrane, Barnesville, MN; two sisters-in-law: Emma Randklev, Moorhead, MN; and Mildred Wohlwend, Barnesville; several nieces, nephews, other relatives and friends.
She was preceded in death by her husband, Raymond in 2016; two daughters: Diana Schindler and Connie Olson; son and daughter-in-law, Curtis and Carol Schindler; her parents; brother, Charles Thrane; and sister, Loretta Rechtenbach.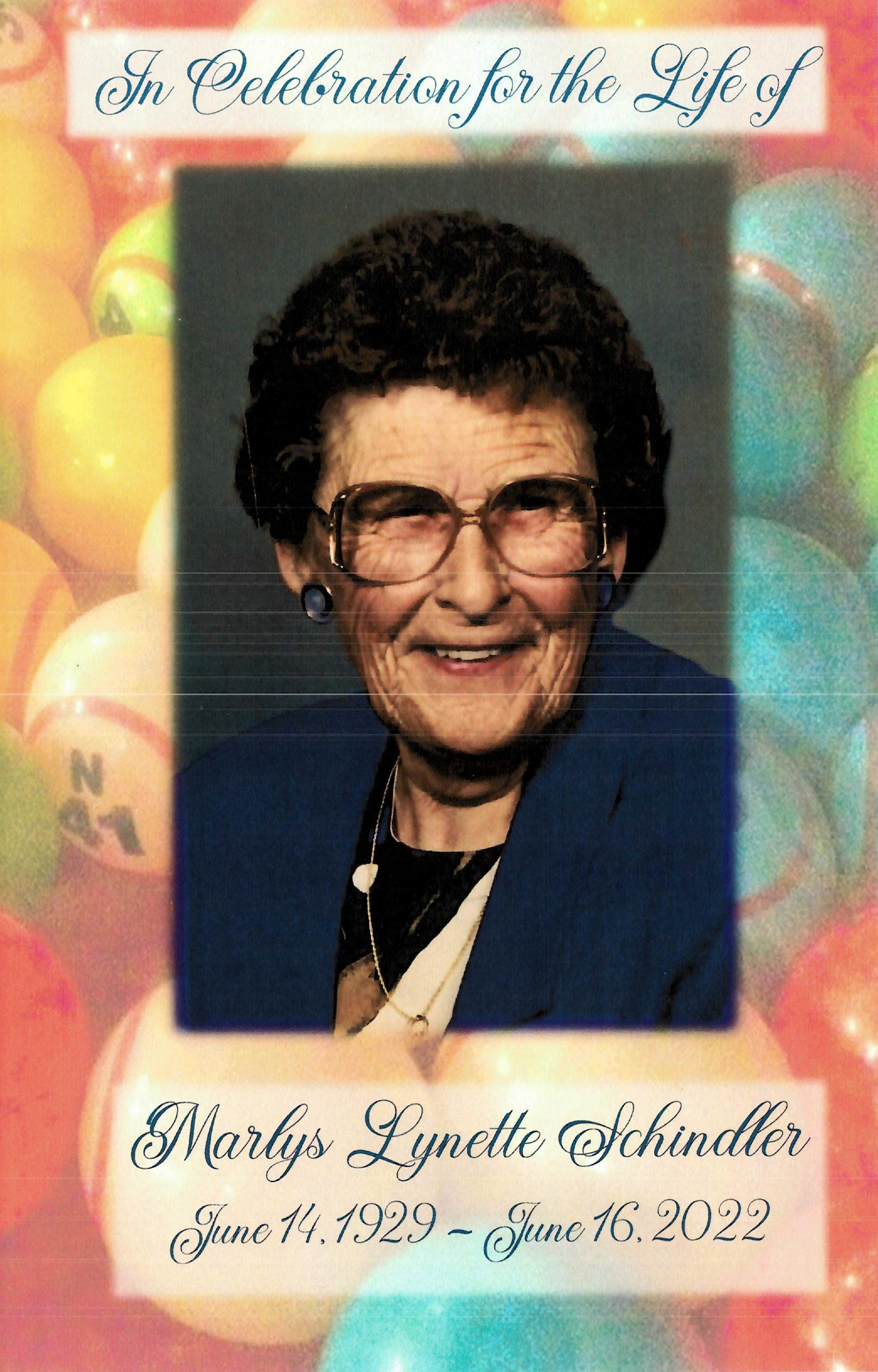 Marlys Schindler's Memorial Folder