Nancy Ann Holm died on Monday, June 27th, 2022, at Eventide Nursing Home in Moorhead, Minnesota. Memorial services will be held at 11:00 AM, Saturday, July 9th, 2022, at Our Savior's Lutheran Church in Barnesville, MN with Pastor Chris Leach officiating. Burial will follow in Lysne Church Cemetery, rural Hawley, MN. Visitation will be held for one hour prior to the memorial service at the church.
Nancy Ann Hunter was born at St. Luke's Hospital in Fargo, ND on November 16th, 1939, to Frank and Miriam (McGinnis) Hunter. She graduated from Moorhead High School in 1957. Nancy was united in marriage to Roland Olaf Holm on May 10, 1958, at Trinity Lutheran Church in Moorhead. They made their home in Moorhead, Minnesota from 1958 to 1966. That fall they moved to Barnesville, Minnesota where Roland taught for 33 years. Nancy became active in the community and Our Saviors Lutheran Church while raising her four children. She volunteered as an election worker and spent time with her church circle. She was an avid reader, gardener, knitter, sewer and quilter. Her kids almost never had a store-bought Halloween costume or prom dress. She made thousands of quilts for her family, church and community. Nancy loved to cook for her big family and the wrestling team Roland coached. She had a backyard full of fresh fruits and vegetables that she canned for the long winters. After spending almost 30 years raising her children and supporting her husband, Nancy went back to college and received a teaching degree from Moorhead State University. She spent many years substitute teaching in Barnesville and around the area. After 56 years of marriage Roland passed away in 2014. Nancy left Barnesville in 2015 and spent her remaining years in the Fargo- Moorhead area around family.
Nancy is survived by her four children: Julie Johnson, Moorhead, MN, Jeff (Eileen) Holm, Willmar, MN, Jill (David) Hudson, Gardner, ND, James (Rhonda) Holm, Aurora, IL; 12 grandchildren: Jessica (Jeff) Zenk, Otsego, MN, Heidi (Brad) Bushy, Moorhead, MN, Brittany (Jason) Schapp, Fargo, ND, Kaitlin (Geoff) McCollum, Moorhead, MN, Sarah Holm, Moorhead, MN , Zachary (Sudha) Holm, Moorhead, Mark Holm and his fiance; Nicole Groeneveld, Fargo, ND , Ashley Hudson and her fiance; Dan Heintz, St. Paul, MN, Andrew (Christine) Hemmah, Colgate, ND, Benjamin Hudson, Hunter, ND, and Ruby and Gabrielle Holm, Aurora, IL; 17 great grandchildren: Maya, Dylan, Mason & Tyler Bushy, Cole and Brigitte Zenk, Brooklyn, Kali and Riker McCollum, George, Henry and Abigail Schapp, Ezra and Ella Holm, Leif, Elsie and Holt Hemmah, and brother Tom (Jackie) Holvik, St. Michael, MN. She was preceded in death by her husband Roland, her son-in-law Jack Johnson and her parents.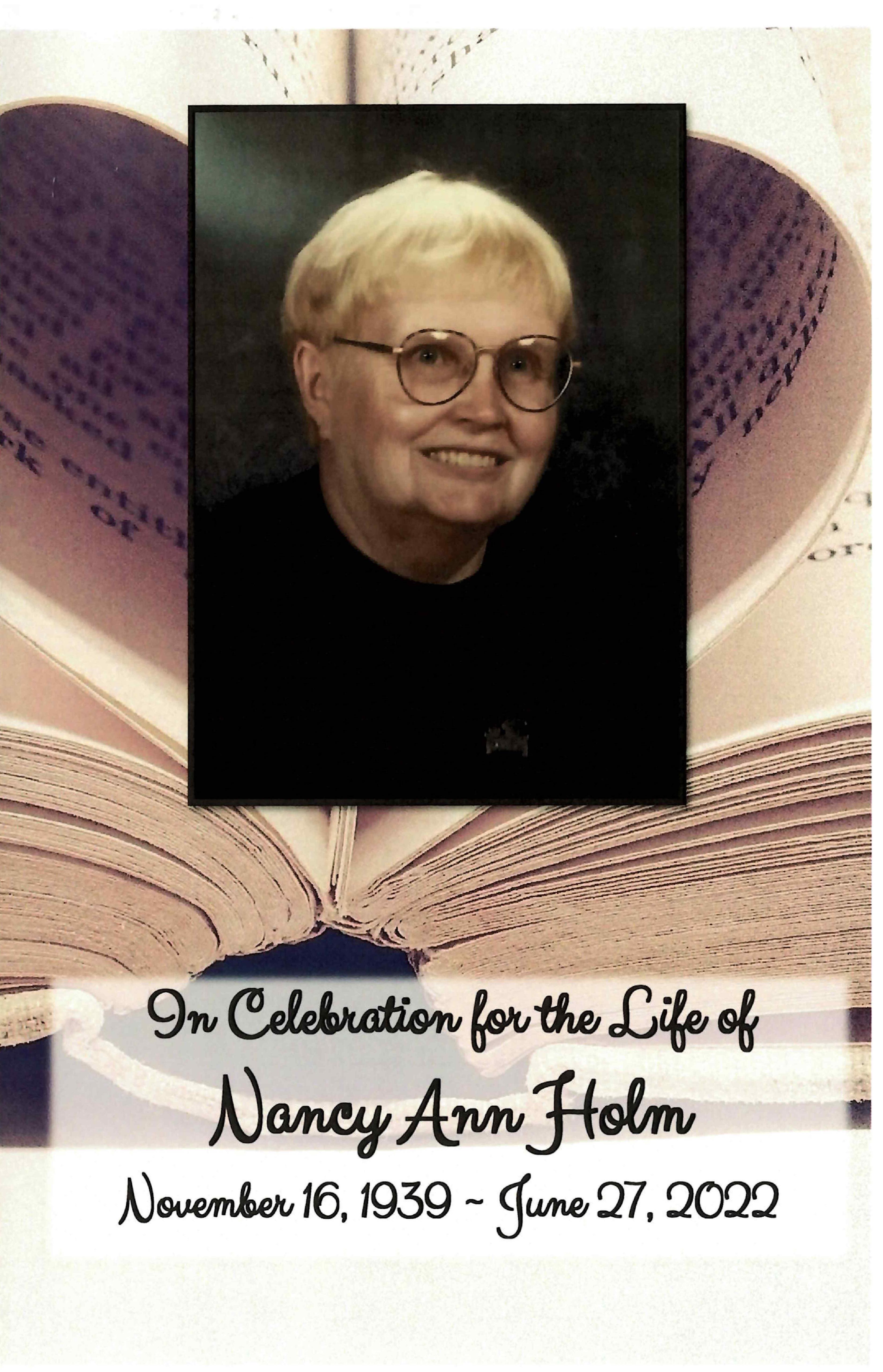 Nancy Holm's Memorial Folder