Phyllis Smilonich, age 81, of Moorhead, MN, died on Tuesday, June 14, 2022 at Essentia Hospital in Fargo, ND.
Funeral services will be 11:00 am, June 30, 2022, at Our Saviors Lutheran Church in Barnesville, MN with Pastor Chris Leach officiating. Burial will follow in the Comstock Cemetery, Comstock, MN.
Visitation will be from 5-8 PM, Wednesday, June 29, 2022, with a prayer service at 7 PM at Dobmeier Funeral Home in Barnesville, MN.
Phyllis Mae Anderson was born on December 31, 1940, to Jalmer Odin and Alice Elizabeth (Jacobson) Anderson in Moorhead, MN. She grew up in Moorhead where she attended school and graduated from Moorhead High School in 1958. During her years of high school, she was active with the school newspaper. She went on to Concordia College in Moorhead obtaining a degree in social work. She worked in Minneapolis, MN at General Hospital as a social worker.
She was united in marriage to Nick Smilonich on September 1, 1962. They lived in a few places around the globe including Pennsylvania, California, and England. As the children were born, she changed her focus to raising her three children: Jill, Michael, and Stefani. In 1976, Phyllis moved to Barnesville where she would continue to raise her children. For many years, Phyllis worked at the State Hospital in Fergus Falls, MN in Christian education and the Chaplain's department. Following retirement, Phyllis moved to Moorhead.
Phyllis was a dedicated member of Our Saviors Lutheran Church in Barnesville. She served as President of the Women of the ELCA, and spent many hours quilting with the quilter's group at the church for more than 40 years. In 2019, WELCA honored Phyllis with the Mary Magdalene Award.  She also was active in a book club and the Home Owners Association. Phyllis was always a generous caring person who made many lasting friendships over the years.
She is survived by her husband, Nick Smilonich of Rancho Santa Margarita, CA; her children: Michael (Melissa) Smilonich of Columbus, OH; and Stefani (David) Anderson of Olympia, WA; four grandchildren: Elizabeth, Nickolas, Marianna and Marshall; two siblings: Stephen (Mary) Anderson of Barnesville, MN and Jeanne (Humberto) Rodriguez of Moorhead, MN; a sister-in-law, Daria Anderson of Perham, MN; and several nieces, nephews and cousins.
Phyllis was preceded in death by one daughter, Dr. Jill Miller; her parents, Jalmer and Alice Anderson; 2 brothers, Bryce and Eugene Anderson; and niece, Jessica Anderson.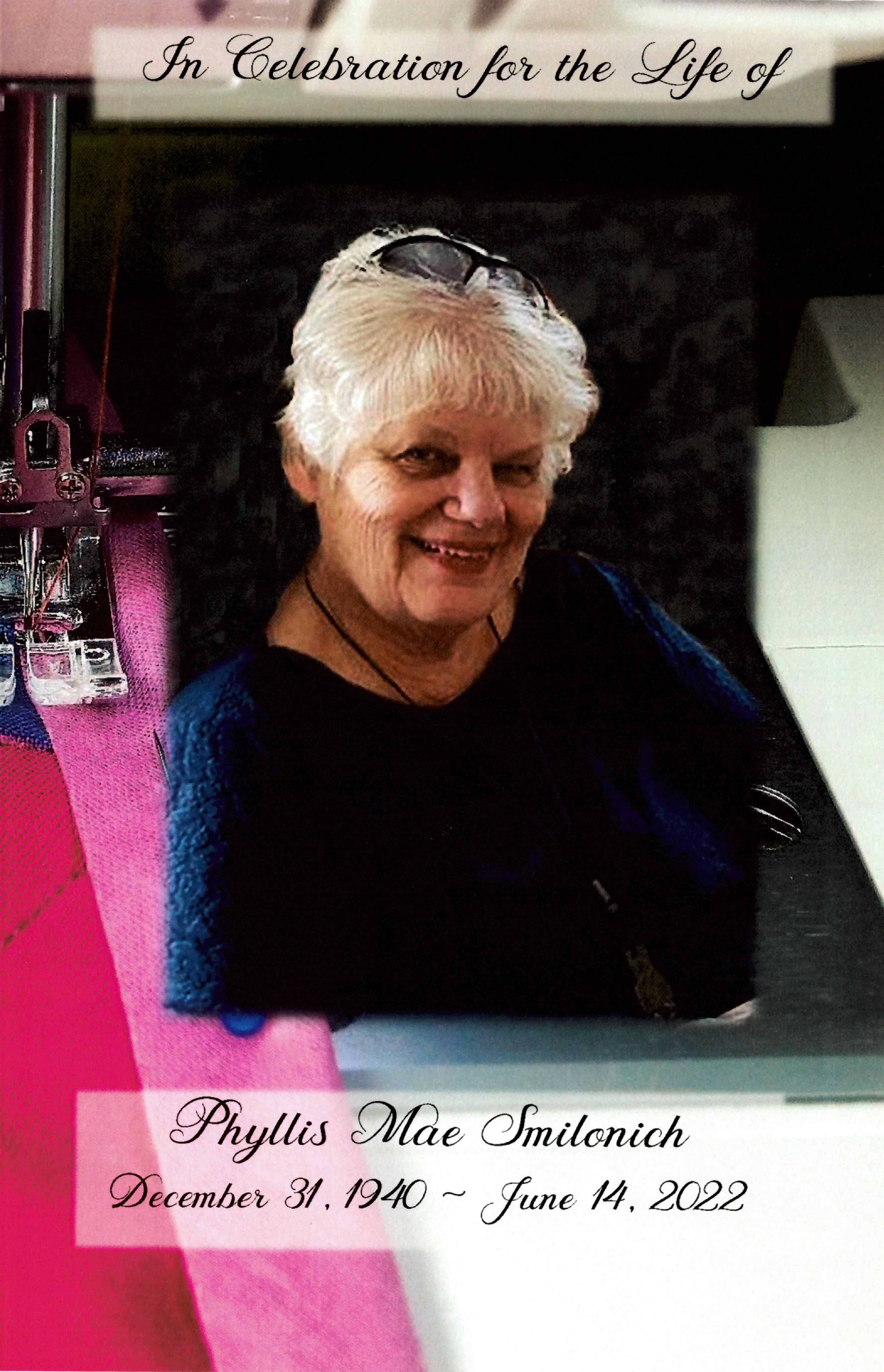 Phyllis Smilonich's Memorial Folder