Roger Allen Hansen, age 68, of Baker, MN died peacefully at his home surrounded by his family on Monday, September 5, 2022, under the care of Sanford Hospice.
Roger Allen Hansen was born on July 20, 1954, to Alvin and Fern (Butenhoff) Hansen in Fargo, ND. Roger grew up on the family farm near Baker, MN. He attended school in Barnesville and graduated with the Class of 1972. He continued on to Moorhead Technical School in Diesel Mechanic.
He met his future wife while driving school bus in Barnesville. He was united in marriage to Ann Bauman in Ely, MN in 1975. They started their married life and lived in the Baker area. Roger began farming with his family and continued throughout his lifetime.
Roger believed in Community Service and was active in several organizations including the Lions Club. He served on various farming and church committees over the years. He was always active in his church families including Trinity Church in Sabin, Christ the King Church and the Lutheran Church of the Good Shepherd both in Moorhead. He enjoyed fishing, watching his kids and grandkids activities, traveling, and camping. He found joy in helping others through benefits, fundraising, and tending to his yard.
On September 28, 1999, Roger married Laurie (Tollefsrud) Kujanson in Trinity Lutheran Church in Sabin. They made their home on the Hansen Family Farm in Baker. Roger and Laurie enjoyed traveling, especially to the Grand Cayman Islands, and camping at Lake of the Woods.
Roger is survived by his wife Laurie Hansen of Baker, seven children: Eric (Alesha) Hansen of Grand Forks, ND, Kyle (Jess) Hansen of Rochester, MN, Lisa Hansen of Cincinnati, OH, Allison Eaton of Moorhead, MN, Alex (Angie) Hansen of Barnesville, MN, Ashley (Cody) Chamberlain of Minneapolis, MN, Kate (Terry) Jorgenson of Barnesville, MN, 19 & 1/2; grandchildren, Matthew, Noelle, Ariana, Dane, Sophia, Ryker, Vance, Charles, Nathan, Brennan, Maisie, Daxen, Tenley, Lexi, Theo, Oliver, Harper, Hadley, and Hudson; father Alvin Hansen of Baker, MN, brother Doug (Nancy) Hansen of Fergus Falls, MN, sister Kathy (Kurt) Sogn of Baker, MN, mother-in-law Sonja Tollefsrud of Dilworth, MN, and numerous nieces, nephews, and countless friends.
Roger was preceded in death by his mother Fern Hansen, and father-in-law Allen Tollefsrud.
Visitation will be from 5-8 PM, on Monday, September 12, 2022, at Dobmeier Funeral Home in Barnesville with a Prayer Service at 6:00 PM. Visitation will continue for one hour prior to the funeral service at the church on Tuesday.
Funeral services will be 11:00 AM, Tuesday, September 13, 2022, at Lutheran Church of the Good Shepherd in Moorhead, MN with Rev. Mary Suomala Folkerds officiating. Burial will follow in Trinity Cemetery in Sabin.
Memorials are suggested to the Barnesville Lions Club or your local Lions Club.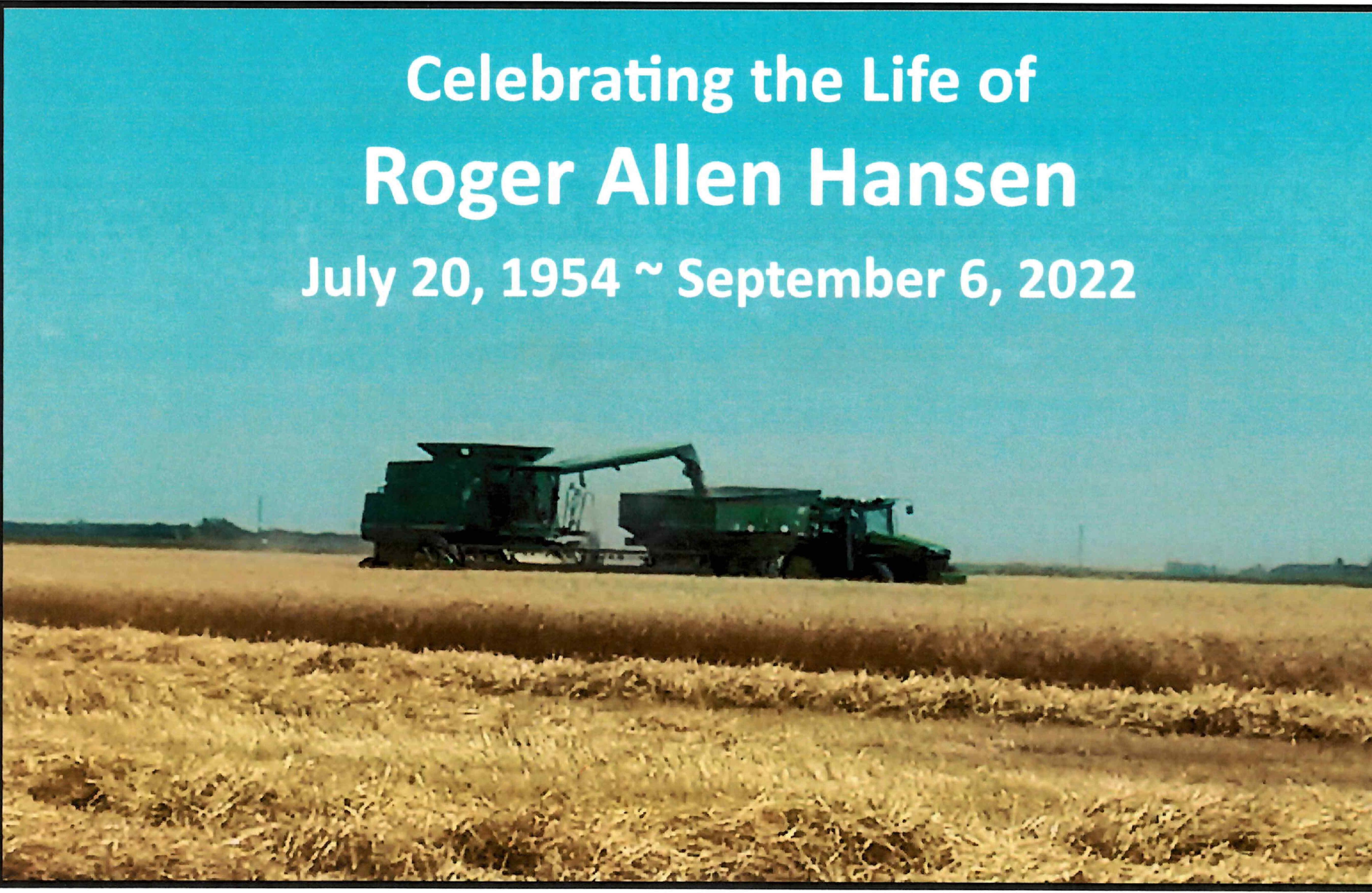 Roger Hansen's Memorial Folder