Roger Wagner, age 86, of Barnesville, MN died at his home surrounded by his family on Friday, April 29, 2022.
Funeral services will be 11:00 AM, Friday, May 6, 2022 at Trinity Lutheran Church in Sabin, MN with Rev. Brett Hartwig officiating. Burial will be in the City Cemetery in Barnesville, MN with Military Honors being provided by the Barnesville Honor Guard.
Visitation will from 5-8 PM, Thursday, May 5, 2022 at Dobmeier Funeral Home in Barnesville, MN with a Prayer Service at 7:00 PM with Rev. Matt Valan officiating. Visitation will also continue for one hour prior to the service on Friday.
Roger Dennis Wagner was born on May 29, 1935 to Raymond Christ and Hazel Irene (Ellis) Wagner at St. Ansgar Hospital in Moorhead, MN. He grew up in rural Clay County and he started country school through the 8th grade, and then attended Dilworth High School.
At the age of 17 years old, he started taking flying lessons. He then received his pilot license before entering the US Army and served his country from 1955-1957 in Korea. He returned home to Minnesota and got his commercial flying license.
On July 7, 1962, he was united in marriage to Eleanor Marie Dow in Rothsay, MN. They started out their married life in Moorhead, MN. In 1969, they built a house in Alliance Township in rural Baker, MN where they have continued to live. Roger farmed and also did aerial crop spraying for 30 years. He raised potatoes and then went to sugar beets in 1975. He also raised grain and beans. He loved air shows, after retiring they went to the Oshkosh Air Shows in Wisconsin. He also enjoyed hunting, fishing, camping, photography, military history, and doing the cryptoquip in the newspaper.
Roger is survived by his wife Eleanor; two children: Debra Wagner, of Rochester, MN; and Robert Wagner, of Barnesville, MN; two sisters: Joanne Reitan, of Moorhead, MN; and Dona Mae of Hastings, MN; several nieces, nephews, other relatives and friends.
Roger is preceded in death by his parents; and one brother, Richard Wagner.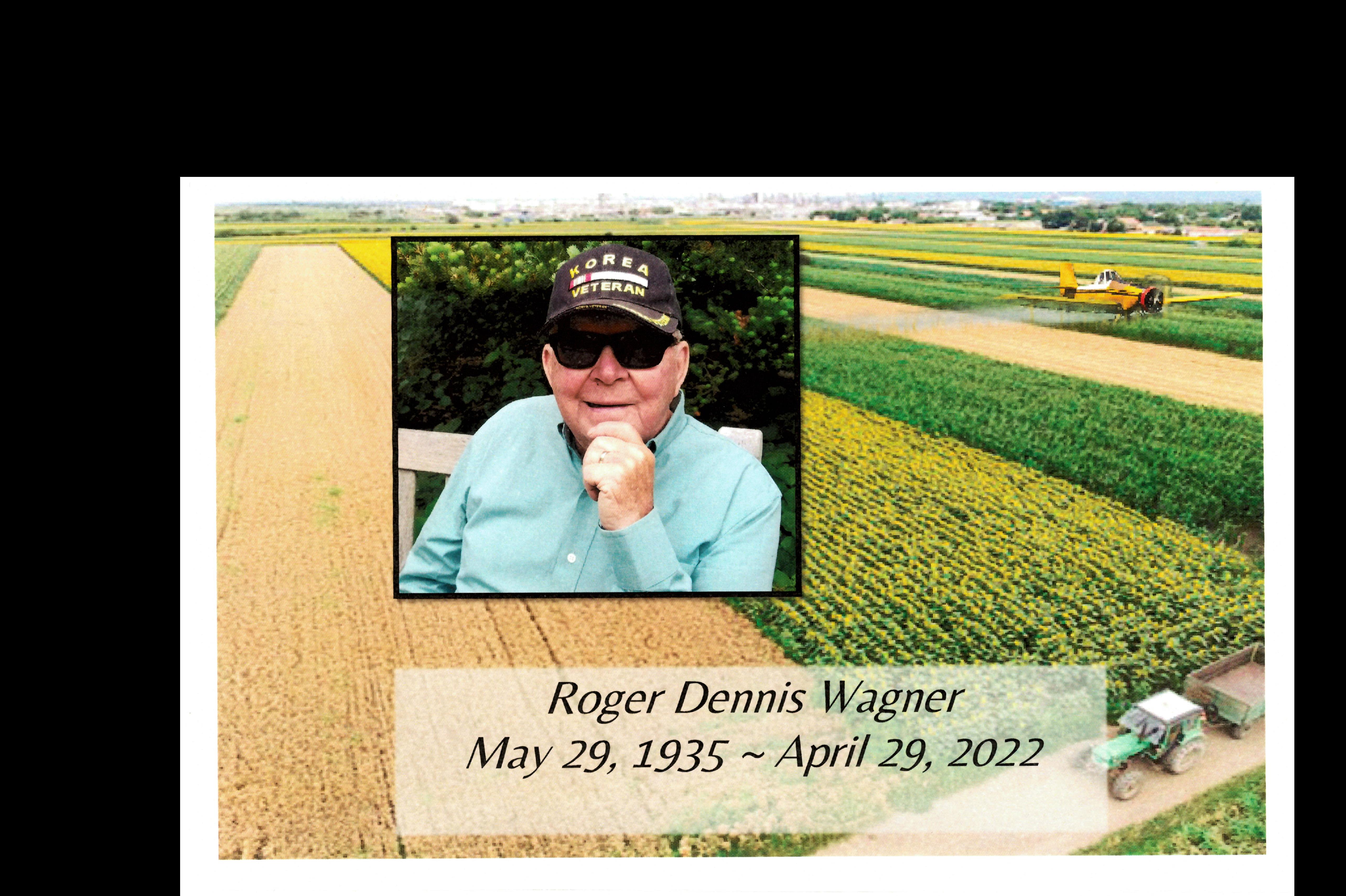 Roger Wagner's Memorial Folder